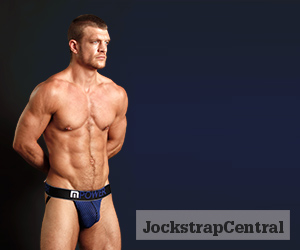 FOR THE BIG BOYS: MALE POWER HONEYCOMB MESH JOCKS at JOCKSTRAP CENTRAL
The Honeycomb Jockstrap by Male Power is a stylish and unique jock that puts comfort first but with a touch of sexiness that you would expect from a Male Power creation and you can now get them at Jockstrap Central.
The most notable feature is its namesake, the unique honeycomb mesh fabric: On first glance, it looks like a honeycomb patterned mesh, and it is but upon closer inspection you'll find the holes of the honeycomb are filled with a fine black mesh so it is see-through but subtly so.
It has a generous cut pouch so all the guys phoning Jockstrap Central to say they're HUGE down there and asking what jock will fit you, then this is the one. Not only does it have a roomy pouch but the mesh fabric has an incredible four-way stretch. Proof is in Caleb King's pudding, so to speak. He's got an enormous everything and this jock doesn't cramp his style — as you can see from his bulge in the photos at Jockstrap Central.
Comfort is not just in the pouch. The two inch wide waistband is made of a super soft plushed elastic with just the right amount of tension and stretch as are the two 3/4 inch leg straps.
Between the striking contrasting honeycomb mesh of the pouch, the stylized M Power logo against the black waistband and your big ol' bulge, this is one jock that is going to get you noticed