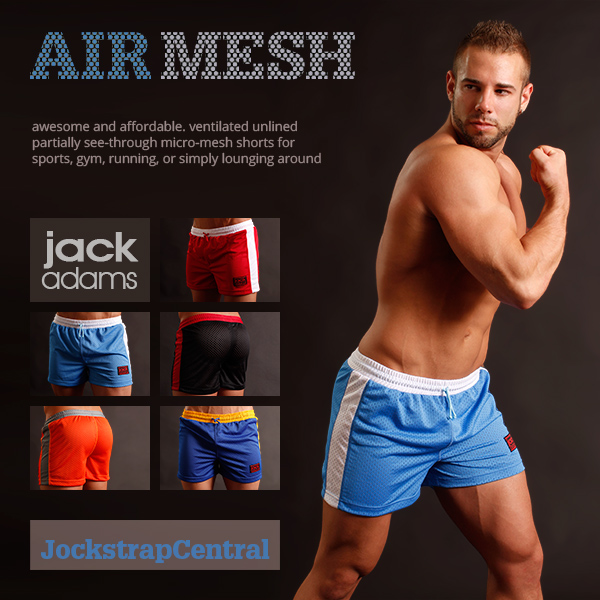 SEXY AIR MESH GYM SHORTS BY JACK ADAMS ARRIVE AT JOCKSTRAP CENTRAL
Jockstrap Central's newly launched Jack Adams Air Mesh Gym Shorts are set to be your most favorite shorts… ever. And not just for the gym, it will work equally well as your stay-at-home lounging comfies or a fun and exciting bold short to wear on the street with your favorite high tops. They are completely unlined so at the gym, wear them with your favorite jockstrap but anywhere else, be free and go commando. You'll love the sensation of the air flowing through the micro-mesh tickling your boys and they're even partially see-through so you'll be visually tickling everyone else with view. Finally, the bold color choices make for a sporty and fun fashion statement. Here are the details:
The shorts are made with Jack Adams' signature lightweight micro-mesh so they feel like you're wearing nothing at all, plus they are unlined, think of it as built-in air conditioning on a hot summer day. There are no cumbersome pockets and the fabric drapes perfectly. They come in five variations with a solid base color and two contrasting color 2-1/4 inch sports stripes in the same micro-mesh down the the outside leg. An elasticated 1-1/4 inch wide waistband in the contrasting color keeps the short up, but if you want that extra security, there's an included drawstring. Finally, a stylish rectangular Jack Adams logo appears toward the bottom of the left leg.
They're only $27 and they come in awesome color combinations of sky-blue and white, orange and grey , red and white, black and red, or blue and yellow so you can get a few (to perhaps match your mood!).
Jockstrap Central's hunky muscled model Trent is taking them for a spin so be sure to head over and enjoy the view.