July 19, 2014
July 18, 2014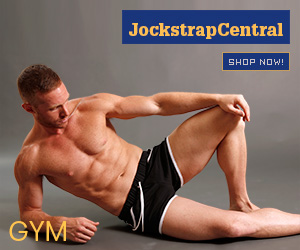 GEAR UP WITH AMERICAN JOCK GYM GEAR AT JOCKSTRAP CENTRAL
Hot off the bench-press and onto the shelves at Jockstrap Central, American Jock's latest gym wear has arrived. Whether you're wearing their Gym Short, Body Builder Tank Top, or both, you'll be high-styling it in total comfort. Here are the details:

American Jock Gym Short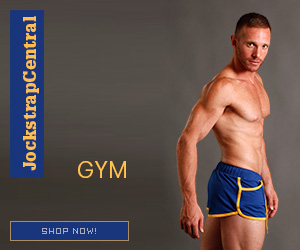 Whether it's at the gym or simply out on the street, these awesome light weight shorts are loaded with features and are sure to become your new all-time favorites.
The favorite feature of the self-admitted pervs at Jockstrap Central is by far that the shorts are unlined so you can show everyone what you've got as it's swinging free behind the light-weight fabric. Plus with only an 8-inch side seam, these are proper shorts. Of course if you want support, simply grab your favorite jockstrap to wear underneath and you're set.
Besides the pervy features above, the shorts also include spacious front pockets with stylish contrasting piped edges, draw cord, contrasting elastic piping for the leg openings, side leg splits for freedom of movement, soft and plushed 100% cotton fabric plus the big bold colors with liven up any workout or chore.

American Jock Body Builder Tank Top
Although it's called the Body Building Tank Top and yes, it's ideal for guys who wish to showcase all the hard work and hours dedicated to their physique, with its lightweight soft cotton/lycra fabric, scoop neck front, y-back design and roomy arm holes, this is a perfect tank to wear out on all those hot sweaty summer days.
Of course it's not all about function, it's also about style: Sure, you can tuck the tank into your shorts or jeans but because American Jock finished the tank off at the bottom with a front and back scoop, it looks equally as good untucked. Finally, with its sporty contrasting edging it's as appropriate at the gym as it is on the street.
Be sure to check out Jockstrap Central to see their latest model Gerry with his killer fitness instructor meets dancer body putting the American Jock through a workout of their own.
July 17, 2014
July 12, 2014
June 1, 2014
May 23, 2014
May 13, 2014
May 9, 2014
April 30, 2014
Older Posts »