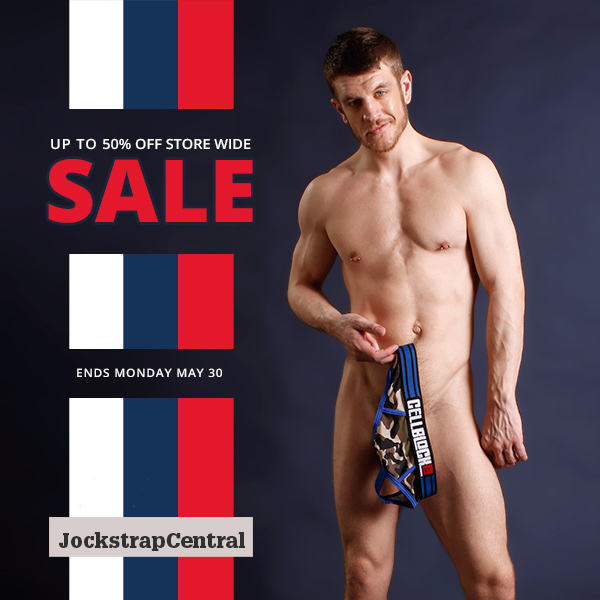 MEMORIAL WEEKEND SALE AT JOCKSTRAP CENTRAL STARTS NOW — UP TO 50% OFF STORE WIDE
A long weekend deserves a big sale, and we mean BIG. From now until Monday May 30th, 2016, everything at Jockstrap Central is on sale up to 50% off. Jockstraps, jock briefs, briefs, trunks, shorts, swimwear, full frontal display suits, tank tops, fetish wear, wrestling singlets, socks and more are all on sale.
It couldn't be easier, as it's a site wide sale there are no discount codes to worry about. Just head to their online store and you'll find all their products listed with the regular price scratched out and the new sale price listed. There are too many deals to mention, but be sure to check out their exclusive Raw Studio line where their clearance mesh jockstraps and erotic gear — now 50% off. Raw Studio's newly launched Military Collection of leather look jockstraps, jock briefs and ball-lifters are 10% off. All their clearance gear from Cellblock 13 is 40% off while sport jock inspired Locker Jocks are 15% off and their recently launched Bullet and Commando Collections are 10% off.
Also worth mentioning: Papi Jockstrap 2-packs are 50% off and 3-packs are 15% off. All their PUMP! jockstraps, briefs and socks are 20% off as are their Wolf and Omtex sports jockstraps. Speaking of sports jocks, Activeman, Bike and Flarico are all 15% off. Finally, their imported sports fetish jocks, shorts and singlets from Maskulo are now 15% off, Jockfighters gear is 10% off and their new Sukrew Jocks are 10% off while all clearance Sukrew items are 25% off. Don't forget, Maskulo and Jockfighters are exclusive in North America at Jockstrap Central if you're looking for something truly unique.
Just remember to shop early for the best selection. During these sales, things are sure to sell out quickly.